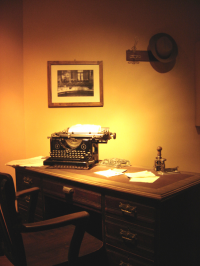 Gary F. Jones, DVM, PhD
I'm a writer of short stories and essays, usually approaching my topic with gentle humor and a self-deprecating wit. It often seems my life has been a testament to bad judgement and wishful thinking, although my wife of 37 years says she knows of nothing in my record to justify such unfettered optimism.
I retired recently from the Biological Discovery unit of the Animal Health division of a multinational pharmaceutical company. Examples of my writing can be found at this site and in Infection and Immunity, the Journal of Clinical Microbiology, the Journal of the American Veterinary Medical Association, the American Journal of Veterinary Research, the Journal of Swine Health and Production, the Journal of Veterinary Diagnostic Investigation, and other compilations of humor.
Expertise Breezy or whimsical fiction, veterinary vaccine development, bovine medicine, molecular immunology and veterinary bacteriology, and governance of IACUCs and implementation of the Animal Welfare Act
Skills Writing gentle critiques and reviews of fiction, designing and monitoring GCP bovine vaccine clinical research studies, and gracefully losing fights with management
Location Omaha, NE